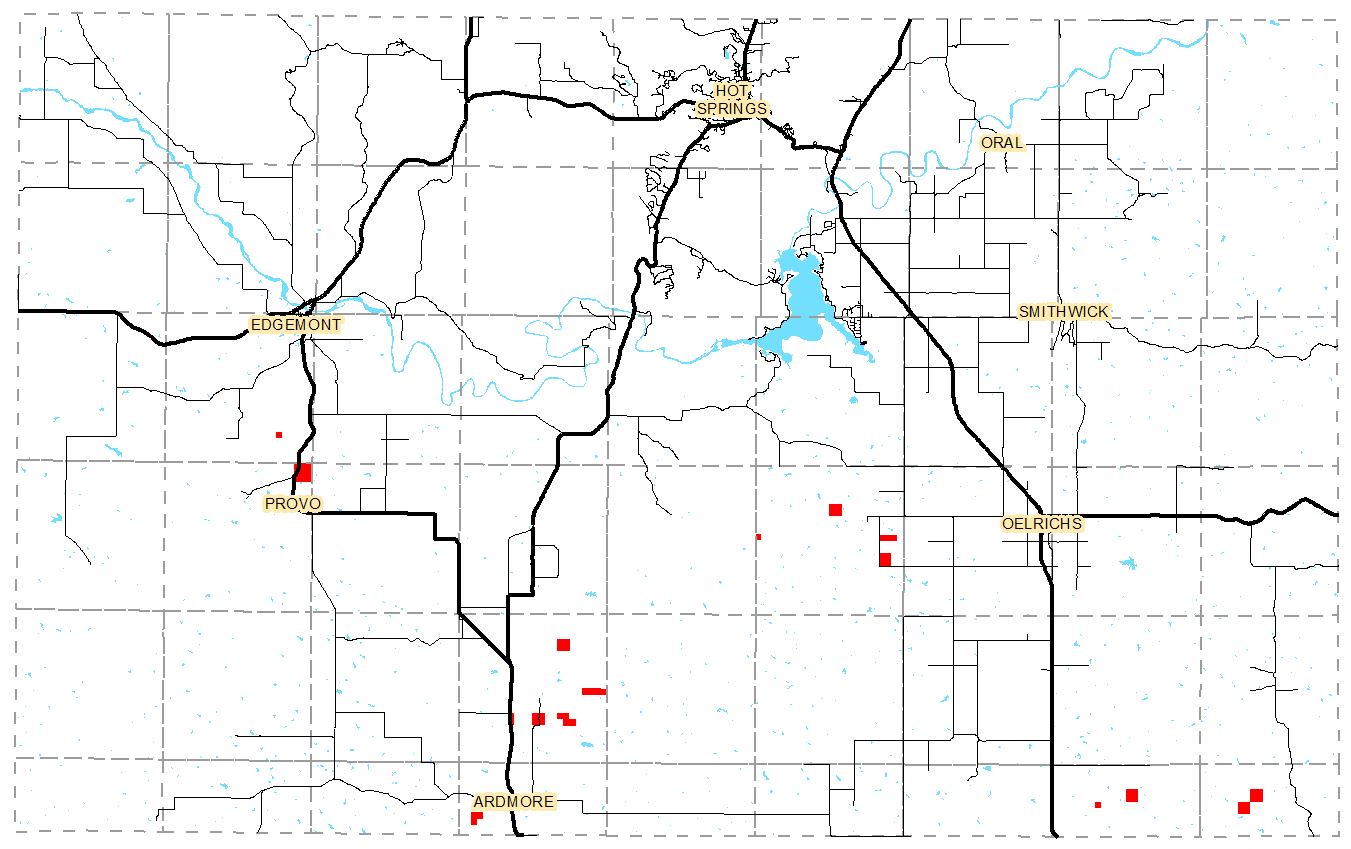 The Department of Agriculture recently transferred several isolated properties in Fall River County into private hands.  These properties were previously under the care of the Buffalo Gap National Grasslands and the BLM.
The map above shows in red the locations of these properties. All are in the south half of the county, most of them have little accessibility.
If you plan to hunt or hike in these areas please check the updated map book or the online interactive map, or contact the GIS Department at 605-745-7584 to ensure that you do not trespass on these recently purchase properties.
Legal Descriptions for the land transferred are listed below.
Township 9, Range 2:
Section 26: SW1/4SE1/4
new map
Township 10, Range 2:
Section 1: Govt Lots 1, 2, 3, S1/2NE1/4, SE1/4NW1/4, NE1/4SW1/4, N1/2 SE1/4, Less Hwy ROW
new map
Township 10, Range 6:
Section 10: SW1/4
Section 13: S1/2SW1/4, SW1/4SE1/4
Section 18: Govt Lot 4
Section 24: SW1/4
new map
Township 11, Range 4:
Section: 11: NW1/4
Section 24: N1/2N1/2
Section 26: SW1/4NE1/4, N1/2NW1/4, SE1/4NW1/4
Section 27: NW1/4
Section 28: W1/2NW1/4, Less RR & Hwy
new map
Township 12, Range 4:
Section 18: N1/2NE1/4, SW1/4NE1/4
new map
Township 12, Range 8:
Section 8: NE1/4SE1/4
Section 10: NW1/4
new map
Township 12, Range 9:
Section 8: SE1/4
Section 9: NW1/4
new map