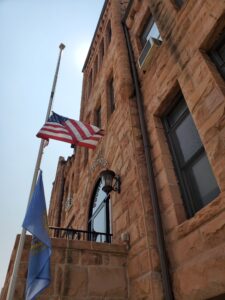 Whereas, the Fall River County Board of Commissioners have designated August 5th through August 12th, 2021, as a week to honor Eric Shull, former Highway Department employee, who passed away on July 25th, 2021.  The Commission requests that in his honor, the American flag at the courthouse be lowered to half-staff; and
Whereas, Eric Shull began his employment with Fall River County on July 8th, 2019 as a truck driver, hauling gravel to all locations in the County.  He took personnel initiative when needed, at one time purchasing and installing parts on his own time, he was diligent to ensure that the safety of the County was a priority.  His call sign, 27C18, has now been retired;
Whereas, the Fall River County Board of Commissioners give thanks to the service Shull rendered unto Fall River County; and
Now, therefore, be it resolved that the Fall River Board of County Commissioners calls upon all citizens of Fall River County to observe the week of August 5th through August 12th, 2021, in recognition of the service of Eric Shull, who by his devotion to duties, had rendered invaluable service to the County, and we further call upon the citizens of Fall River County to pay respect and offer their deepest sympathy to the family and friends of Eric.
Dated this 5th day of August, 2021.
Official Resolution document.