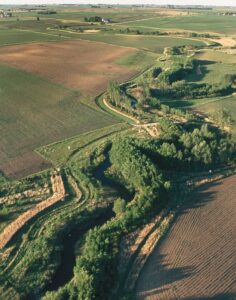 What is a riparian buffer?
Riparian Buffer refers to the perennial vegetation on either side of a stream. The purpose of this vegetation buffer is to improve water quality by reducing chemicals, sediments, and nutrients carried into streams.
Landowners who choose to maintain a riparian buffer and follow the State's management regulations for said buffer can apply for the riparian buffer tax incentive.  Qualifying properties will receive a 50% value reduction on land within the buffer.
(Photo: North Dakota Department of Game & Fish)
Qualifications
Location: Only land along eligible streams and lakes can qualify.  The list of these streams in Fall River County:
Beaver Creek, Beef Creek, Cascade Creek, Cedar Canyon Creek, Cheyenne River, Cold Brook, Fall River, Hat Creek, Hell Canyon Creek, Horsehead Creek, Hot Brook, Lame Johnny Creek, & Red Canyon Creek.  Along some of these creeks only the lower sections of the creek are eligible.
The list of eligible lakes in Fall River County:
Angostura, Bochart, Coffee, Coldbrook, Cottonwood Springs, Crow, Dukes, Ebersol, Ellison, Fiddle Creek Dam, Five, Limestone Butte (Oelrichs Dam), Lower Edgemont Airport Pond, Old Pioneer, Otto, Ray, Sandoz, Sherberth, Sides, South East Highway Canyon, South Indian 1, Upper Edgemont Airport Pond, Vanderberg, White, Williams.
(South Dakota Department of Environment and Natural Resources has a map of these locations.)
Size: This strip of perennial vegetation must be a minimum of 50' wide on either side of the stream (with a maximum buffer of 120' on each side of the stream) to qualify for the program.
Management: Owners must agree to the following management rules on the land within the buffer:
perennial vegetation cannot be harvested or mowed before July 10th
grazing is prohibited from May 1st to September 30th
a minimum of 4" of perennial vegetation cover shall be maintained at all times
Application: Landowners must submit a completed application to the Director of Equalization before October 16th.  This application, if approved, is good for 10-years or until change in use or ownership of land.  Online Application.  Please contact the Director of Equalization's office if you require help with the form, 605-745-5136.
Back to Agricultural Land Assessment page
Back to Director of Equalization page