County-wide reassessment is finished.
We have finished the 4th year of our countywide reassessment.  Some clean up is still taking place to cover properties that were inaccessible during our summer field work.
Year                      Area to be Assessed                                       New Values Applied      New Taxes Payable
Year 1 =                Hot Springs City                                                               2014                                       2015
Year 2 =                Rural Hot Springs School District                                     2015                                       2016
Year 3 =                Edgemont and Oelrichs School Districts                          2016                                       2017
Year 4 =                Commercial (county-wide)                                               2017                                       2018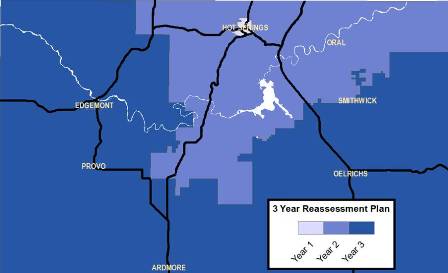 We have addressed some of the frequently asked questions, please follow the link: Reassessment Q & A 2016
The county is only doing this so they can raise our taxes!  This is a common misconception. The purpose of a reassessment is to be sure every property owner is being assessed at a fair and equitable value. It has been 20 years since the last reassessment. After such a long time, many values have gotten distorted and are no longer accurate. Some properties are under assessed, and yes, you will see an increase in your value. Some properties are over assessed and they will see a decrease in value. We cannot stress enough though that an increase or decrease in value does not always equate to the same change in your taxes. There are three factors to determine your taxes, Assessed Value, State Factor, and Mil Levy.
Explanation of: Classification, Valuation & Taxation
Download Powerpoint Presentation: What is an Assessment and How Does it Affect Me?
IAAO (International Association of Assessing Officers) Information Sheets on Assessment and Taxing
Whether we like it or not, taxes are a fact of life. If we can agree to that, then isn't is better to at least be paying our fair share? That is exactly what a reassessment will accomplish…taxes are being charged out fairly and equitably.