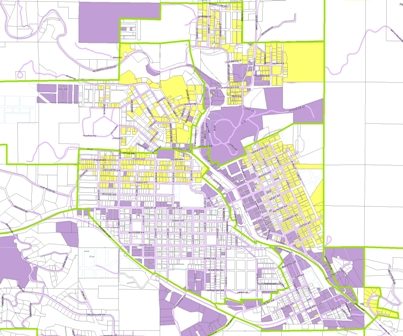 The summer reassessment program continues under the direction of the department of equalization. All areas north of University Ave are expected to have their first visit by the end of the week (July 26th). Those who were not home on the first visit can call the office to arrange a second visit or simply answer some questions over the phone.
Areas between University Ave and Detroit Ave and west of Butler Park can expect a visit within the next couple weeks. The map on the left shows in yellow the areas of town that have been completed either this summer or last summer. (Commercial properties which were assessed two years ago are marked in purple.) The remainder of Hot Springs will be completed this summer and fall.
The new values assigned by this assessment will be provided to homeowners in January (that is two months ahead of the regular assessment notice). These new values will affect the property taxes in 2015.
For additional questions regarding the reassessment click the link 'Reassessment Information' on the county home page in the upper right corner.
Posted: July 24th, 2013